Django Python Projects Ideas Topics 2021 2022
Latest Django Python Projects Ideas Topics 2021 2022
Django Python
Features
Get Latest Django Python Projects ideas 2022
Source Code
We will provide the complete source code.
Django Python App
You will get Django python app installable in your mobile for your demo.
Documentation
Which Inculdes 12 chapters like Abstract, Modules & UML diagrams with 40 – 50 Pages.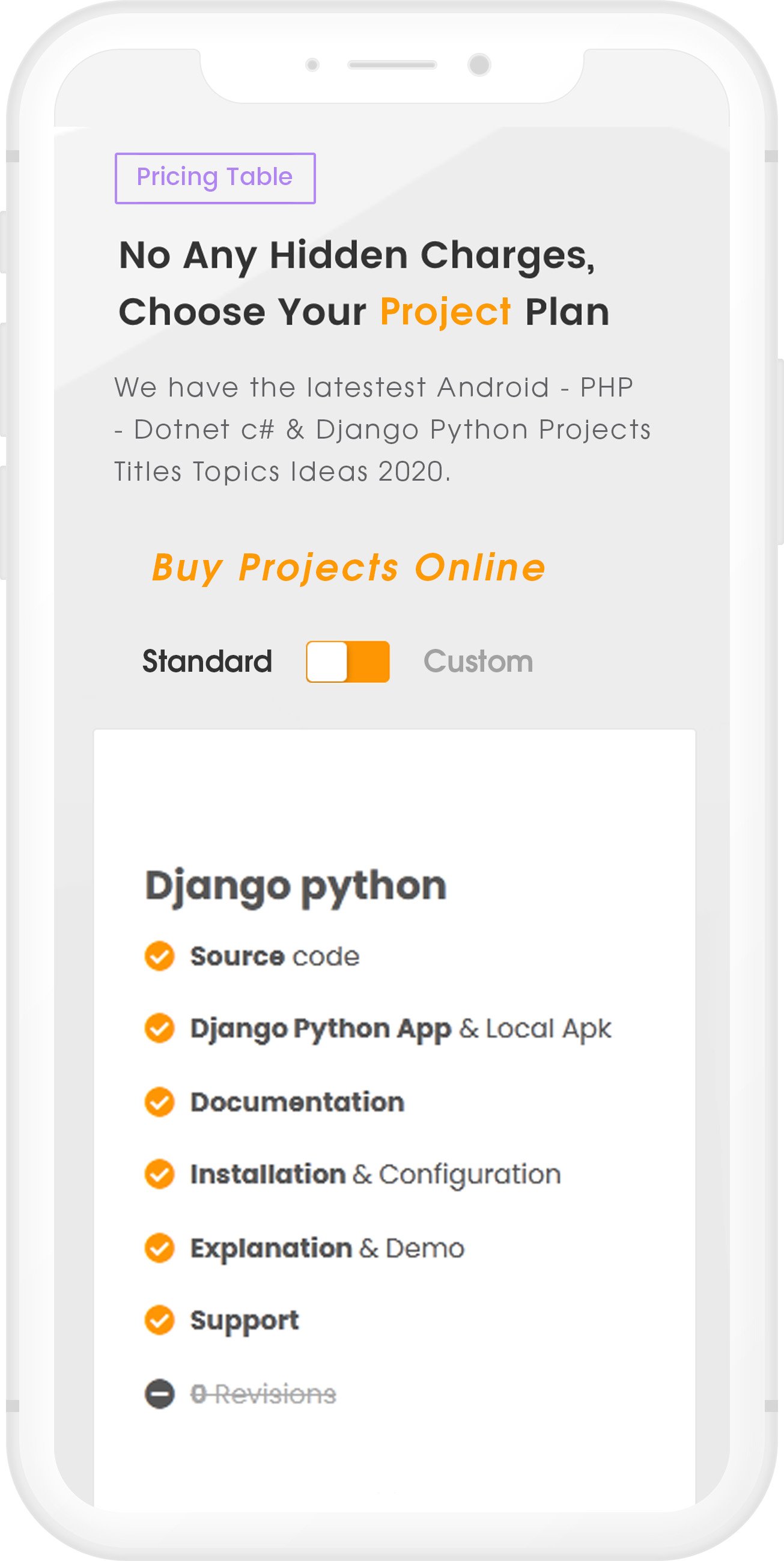 Installation & Configuration
We will do installation & configuration the project in your Laptop / PC.
Explanation & Demo
We access your computer through Anydesk and we will show the demo.
Support & Guidelines
We support by Email, Call, Chat and guidelines of project execution
Pricing Table
No Hidden Charges.
Choose Your Best Project.
Django Python Project Ideas Titles
We have the latest projects ideas 2022. You can get the project on Django python as per you choice.
Django python
Source code
Django Python App & Local Apk
Documentation
Installation & Configuration
Explanation & Demo
Support
0 Revisions
Software Download Links
Xampp
Python 3.8
Django 3.0
IDE: Sublime Text
Software Requirement
Front End: HTML5, CSS3, Bootstrap
Back End: MYSQL
Control End: Python
Help
FAQs
Get Technical & Purchase FAQs
1. When will I get the project source code after payment?
Our Tech support team will contact you immediately. You will receive the project source code within an hour, with instant software downloads and demo will be scheduled.
2. How will deliver the project?
We will connect you through Anydesk software with the live demo on the direct call.
3. Can I edit the code by myself?
No you can't edit the project by yourself.
4. Will your provide revisions / modifications?
No. We well not provide any revisions / modifications.
5. Will I get a refund?
There are no refund policies. You can buy the projects after confirming the project video.
6. Will you do custom projects?
Yes. We will do the custom projects as per the modules.
7. What is the technology used for Android?
Cardova is the technology that we use for the android projects.
8. What does project purchase include?
Project purchase includes the delivery kit of complete source code, full document/ report, installation & configuration, project explanation & demo, support. For android projects you will get mobile apk and local apk.
9. How do I run the project on my PC?
You don't need to worry about it. Our Tech support team will do the project installation and configuration.
10. Will I get a Project Explanation and the Project Demo?
Yes. Our technical support team explains the project on your PC with live demo.
11. Can I get the Full Project Report / Documentation?
Yes. You will get the well documented report up-to 50 pages which includes Abstract, Introduction, Literature Survey, Existing System, Disadvantages, Proposed System, Advantages, System Requirements, Block Diagram, Dataflow Diagram, UML Diagrams, Use Case Diagram, Sequence Diagram, Activity Diagram, Implementation, Modules, Modules Description, System Study, System Testing, Software Environment, Software Description, Coding, conclusion, References.
12. What should I do if there are any issues after the project delivery?
You can contact our support team if there are any issues.Tech Support: +91 9629754500Whatsapp Now
13. How can I make the Payment?
Payment Options: •Debit Card •Credit Card •Net Banking •Google Pay •UPI Payment •Wallet •Direct Bank Transfer.
14. How to buy the project?
Buy from our official website codeshoppy.com. There you can buy the projects through any of the online payment method available and you will get the project by online.
15. How do I get the project modifications?
Yes, before delivering the project we will do the modifications listed by you from the demo video. No modifications after the project delivery.